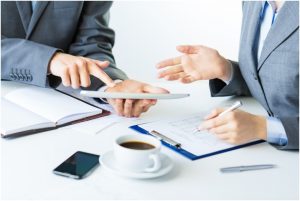 For all Your Accounting and Bookkeeping Solutions

We here at CBD Accountants Campsie are able to ensure the timely and accurate delivery of accounting and bookkeeping solutions, tailored to suit your businesses needs. Our list of satisfied clients range from individuals, sole traders, partnerships, SMSFs, not for profits, trusts, and small to medium businesses. Our team of expert accountants and bookkeepers handle your books so that you can focus on your business. They offer a full range of services including;

Day to Day Bookkeeping

Our experienced bookkeepers will commit to understanding your businesses and what you require to ensure your bookkeeping needs are met. We will cater our services to your business and also allow you to choose the platform you desire such as Xero, MYOB, Quickbooks and Sage. Some examples of what we offer include:
• Initial setup with relevant accounts and figures
• Day to day data entry
• Onsite, offsite and cloud bookkeeping
• Maintenance of the general ledger
• Monthly and year end accounts
• Inventory control management
• Fixed asset register management
• All services related to accounts payable
• All services related to accounts receivable
• Reconciliation of all other accounts such as bank and card accounts

BAS and GST Preparation

We understand that dependant on the size of your business you may be required to lodge business activity statements (BAS), income activity statements (IAS) or goods and services tax (GST) statements. Our team at CBD Accountants Campsie are highly experienced in this field and can assure you that these constant submissions remain hassle-free with us. Our tailored package can include;
• BAS Lodgements – monthly, quarterly and annually
• IAS submissions
• GST registrations and cancellations
• PAYG reporting and instalment variations
• ATO penalty negotiation

Payroll Services

It can be challenging to regularly go through and process the payroll for each individual working for your business, with the various pay rates and entitlement that you need to account for. This burden means you spend time with your focus off of your main business activities. Our bookkeepers are experienced in all aspects of payroll including Single Touch Payroll (STP), PAYG Withholding, Superannuation etc, and can ensure your employees are paid correctly and you stay compliant with the ATO.

Depending on your business situation, we can create a tailored payroll package for you, these services can include:
• STP setup on preferred software for desired amount of employees
• Recording day to day wages with preferred software – STP compliant
• Payslips and payroll summaries – weekly, fortnightly, monthly
• ATO PAYG payment summary (group certificate) distribution and STP finalisation
• Monthly and quarterly superannuation payments
• PAYG tax withholding to superannuation fund and ATO payment
• Lodgement of taxable payments annual report for subcontracts to the ATO
• Lodgement of PAYG payment summary reports to the ATO annually
• Calculation and reporting of annual and sick leave, overtime and rostered days off
• Maintaining employee records include leave taken, overtime, super and long service leave
• Termination payment calculation and processing
• Unlimited access with advice and liaising with your staff regarding payroll matters

Financial Reports

Whether you are looking for financial reports for your business as standard procedure, or need them for special purposes, such as wanting to acquire further financial support or wanting an evaluation for selling your business. We are able to produce the following reports to a high professional standard:
• Statement of Financial Position (Balance Sheet)
• Statement of Financial Performance (Profit and Loss Statement)
• Statement of Retained Earnings
• Statement of Cash Flows
• Supplier and Customer Report
• Any other reports that are required by you

Budgeting and Forecasting

We are able to develop budgets and forecasts by examining your specific financial and business situation, looking at your past and what you hope to achieve. Our team are not only proficient in crunching the numbers, but also care about our client's unique businesses. The reports they produce for you will become a vital tool for your future.